When Wendell Scott's NASCAR career is discussed it is inevitably said that he had one win, and with that one win at Jacksonville in 1963 he became the first African American driver to win a NASCAR race. Wrong. Wendell Scott won at least 128 races at local tracks long before he started his premier series (NASCAR Sprint Cup Series) career. Scott wasn't just the "black driver with a win." He was a champion and a fierce competitor who earned the respect of his fellow drivers.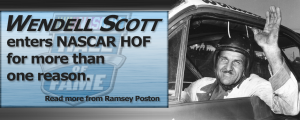 Based upon the strength of his lifetime stats, Scott will be inducted into the NASCAR Hall of Fame on Friday, January 30, along with other NASCAR greats Bill Elliott, Fred Lorenzen, Joe Weatherly, and Rex White.
Perhaps the most remarkable fact about Scott is that when he began his premier series career he was 40 years old. Scott brought along his tenacity and grit from the local tracks to big time racing. In his 13-year career he managed 495 starts, which ranks him 37th on NASCAR's all time list. During that time, Scott amassed 147 top 10s, 20 top 5s and one win. He also won the pole at Savannah, GA, in 1962 that set the dirt track record for all ½ mile tracks.
Prior to his racing career, Scott, like many of his contemporaries, served his country in World War II in the U.S. Army. There he worked in the motor pool for three years, honing his mechanical skills, which would later serve him well in his racing career.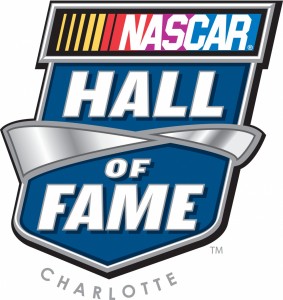 Following the war, Scott returned home to Danville, VA, and took a job as a cab driver, thus continuing his work around cars. Soon Scott began his racing career. According to a story in the News & Advance (Lynchburg, Va.), "Scott's racing career began at the Danville Fairgrounds in 1952 and from there, he moved his way up through the ranks. He won 128 races in the hobby, amateur, and modified ranks."
Scott ran in both the NASCAR Sportsman Division (NASCAR Xfinity Series) as well as the Modified class, and ranked in the top 10 nationally in both. He accomplished this while racing against the likes of Ralph Earnhardt, Cotton Owens, Ned Jarrett, and Fireball Roberts.
In 1959, Scott won 22 races, besting the tough competition at tracks such as Waynesboro, Danville, Zion's Cross, Roanoke, Tidewater, and others. He also won both the track championship at Southside Speedway in Richmond, VA, and the state NASCAR Sportsman Division championship that year.
1964, when Scott was 43 years old, was his best Cup year statistically. That year Scott started 56 races and had one win, eight top 5s and 25 top 10s. That's a year that would make any driver proud.
As Scott earned his stripes, he became one of the guys earning respect and building friendships with fellow drivers. Richard Petty, Crew Chief Dale Inman, and others looked after Scott, providing him with parts and pieces to make sure he could compete each week.
Like many of the great teams of the time, racing was a family affair, and it was no different for the Scotts. Wendell's family played a role back home in the shop and in the pits. Sons Wendell, Jr. and Frankie spent their time under the hood, building engines and parts during non-racing days and pitting the car on race day.
(Wendell Scott, Jr., and I have had several conversations about his dad. Some were good stories, some were not. But Wendell Jr. was always proud of how his dad was able to earn the respect of the greatest drivers in the world.)
In Scott's racing days, restaurants were primarily "whites only" and when a proprietor attempted to throw Scott out, one of his fellow drivers would typically say, "if you are not going to serve Wendell, then you won't be serving any of us." And that was that – he was one of the guys.
Long before the NASCAR Hall of Fame recognized Scott, there was musician and fellow Danville native, Mojo Nixon, who wrote and recorded The Ballad of Wendell Scott. Mojo, who also hosts a weekly radio show called Manifold Destiny on Sirius/XM NASCAR Radio, forever honored the driver in the 1980s:
"No sponsors or a whole lot of money/ sure did make us proud / Wendell Wendell Wendell Scott /Drive so fast he couldn't stop /Wendell Wendell / He's my man / He a stock car driving man!" (Take a listen here: The Ballad of Wendell Scott)
While Scott's win at Jacksonville was momentous, it has actually obscured many of his other accomplishments. Scott's tough but smart driving was his hallmark, and was not unlike the driving styles of Alan Kulwicki in the 1980s and Jeff Burton in recent years.
The number of wins a driver has cannot be the standard for induction to the NASCAR Hall of Fame – there are only 12 that have 50 or more premier series wins, making it a pretty small club. So the Voting Committee wisely evaluates each driver's entire body of work and his or her overall impact on the sport. When you look at Wendell Scott's body of work and what he still means to the sport today, he stands tall among NASCAR's greats.
###
Ramsey Poston is the architect of the NASCAR Hall of Fame nominating and voting process and is President of Tuckahoe Strategies. (www.TuckahoeStrategies.com)