Litigation Communications – Best Practices for Lawyers
Home
Litigation Communications – Best Practices for Lawyers

Click below to download our Litigation Communications manual: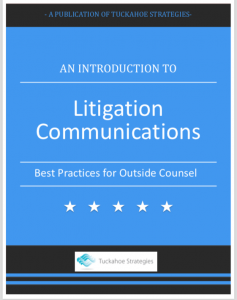 Related Articles
, Insights, apologize, apology, Crisis

---

Over the past year several executives accused of wrongdoing have stepped up to the mic and completely bungled their...

, Insights

---

The remarkable comeback by Oracle Team USA against Emirates Team New Zealand in the America's Cup could launch the...

, Insights, 999, Anthony Weiner, Boeheim, Dan Snyder, Herman Cain, IndyCar, Joe Paterno, Netflix, Penn State, Reed Hastings, Sexting, Syracuse, Wheldon

---

There were plenty of PR fails in 2011 that led to serious consequences – this list focuses on how...

, Insights, NASCAR, Ramsey Poston, Roush Fenway, Social media, Sunoco, Tuckahoe Strategies

---

Social Media Reach Survey conducted week of Dec. 24, 2012.  Figures compiled by adding Facebook likes, Twitter followers, YouTube...

, Insights, Armstrong, Contrition, Crisis, Lance Armstrong, Oprah Winfrey, Performance-enhancing drugs, Ramsey Poston, Tour de France, Tuckahoe Strategies, USA Cycling, Winfrey

---

Five key elements to look for in his interview with Oprah Winfrey In a crisis situation people want to...

, Insights

---

Everyone is opposed to poisoning children and the potential of poisoning children.  When it comes to poisons in children's...