Nascar's Kurt Busch Is Focus of Domestic Assault Inquiry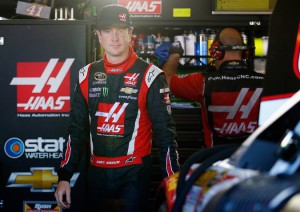 (online version can be found at: New York Times )
Add Nascar to the list of sports organizations now having to manage domestic violence accusations against one of their stars. The police in Dover, Del., released a statement Friday saying that Kurt Busch, the 2004 Cup champion and the driver of the No. 41 Chevrolet for the high-profile Stewart-Haas Racing team, was under investigation on suspicion of domestic assault.
The Associated Press reported that the accusation had been made by Patricia Driscoll, the president of the Armed Forces Foundation in Washington, D.C., and a former girlfriend of Busch's, and that the episode had taken place Sept. 26 in Busch's motor home before a race at Dover International Speedway. The police indicated that the accusation had been made Wednesday.
Busch, who is in Avondale, Ariz., preparing for a Sprint Cup race at Phoenix International Raceway on Sunday, denied the charge through a lawyer, Rusty Hardin.
"This allegation is a complete fabrication by a woman who has refused to accept the end of a relationship, and Mr. Busch vehemently denies her allegations in every respect," Hardin said in a statement.
Busch participated in practice at the Phoenix racetrack on Friday. Spokesmen for Nascar and Stewart-Haas Racing both wrote that they were gathering facts and had no further comment.
That is standard procedure for Nascar. The Cup driver Travis Kvapil was arrested on charges of assaulting his wife in October 2013 and never faced a suspension, even after The Sporting News reported that he had pleaded guilty and had been sentenced to probation and community service.
Nascar's reaction is in contrast to other sports leagues, which have removed athletes from competition while they were involved in domestic violence investigations and before legal proceedings were complete.
Baltimore Ravens running back Ray Rice, who reached a plea deal after assaulting his fiancée earlier this year, was suspended indefinitely after video of the episode became public. Minnesota Vikings running back Adrian Peterson and Carolina Panthers defensive end Greg Hardy have been placed on the N.F.L. exempt list while legal proceedings continue in their domestic violence cases. They are being paid but are not allowed to compete.
Defenseman Slava Voynov of the N.H.L.'s Los Angeles Kings was suspended indefinitely after he was arrested last month on domestic assault charges.
Ramsey Poston, a former managing director of communications for Nascar who helped the organization with crisis management after the death of Dale Earnhardt in 2001, said: "It used to be that sports leagues, when there was an issue, would let law enforcement fully investigate an issue and then, based on that, take appropriate action. In the post-Ray Rice world, I don't think sports leagues have that luxury anymore.
"Obviously it is far, far too early to begin to speculate about what might have happened," Poston added. "I can't see a basis for them to take any action, especially take him off the track. However, Nascar should be asking questions and potentially conducting their own investigation."
Busch is the second high-profile driver at Stewart-Haas Racing who has faced a criminal investigation in recent months. Tony Stewart, Busch's boss and an owner of the team, was investigated in Ontario County, N.Y., over his involvement in the death of the sprint car driver Kevin Ward Jr. during a race at Canandaigua Motorsports Park on Aug. 9.
Ward had left his racecar after a crash to confront Stewart on the track and was fatally hit by Stewart's car. Stewart was not charged in the death.
Busch has a long history of confrontations with drivers and members of the news media, on and off the track.
He was suspended for two races by one former team, Roush Racing, in 2005 after an arrest on charges of reckless driving before a race at Phoenix. He lost his job at Penske Racing in 2011 after a verbal confrontation with a broadcaster. After threatening a reporter at Dover in 2012, Busch was suspended by Nascar.
Relegated to driving for smaller, less competitive teams for two years in part because of his volatility, Busch is in his first season at Stewart-Haas Racing. He made the 16-driver field for the playoff but was eliminated in the first round.
The playoff has prompted a series of postrace fights among drivers in contention, including a melee last week at Texas Motor Speedway. Nascar has not penalized drivers for fighting, and the confrontations have brought greater attention to the sport.
The accusation against Busch comes at a time when Nascar is trying to promote its playoff.
The Phoenix race will cut the field of drivers in the championship chase to four from eight heading into the Nov. 16 season finale at Homestead-Miami Speedway.